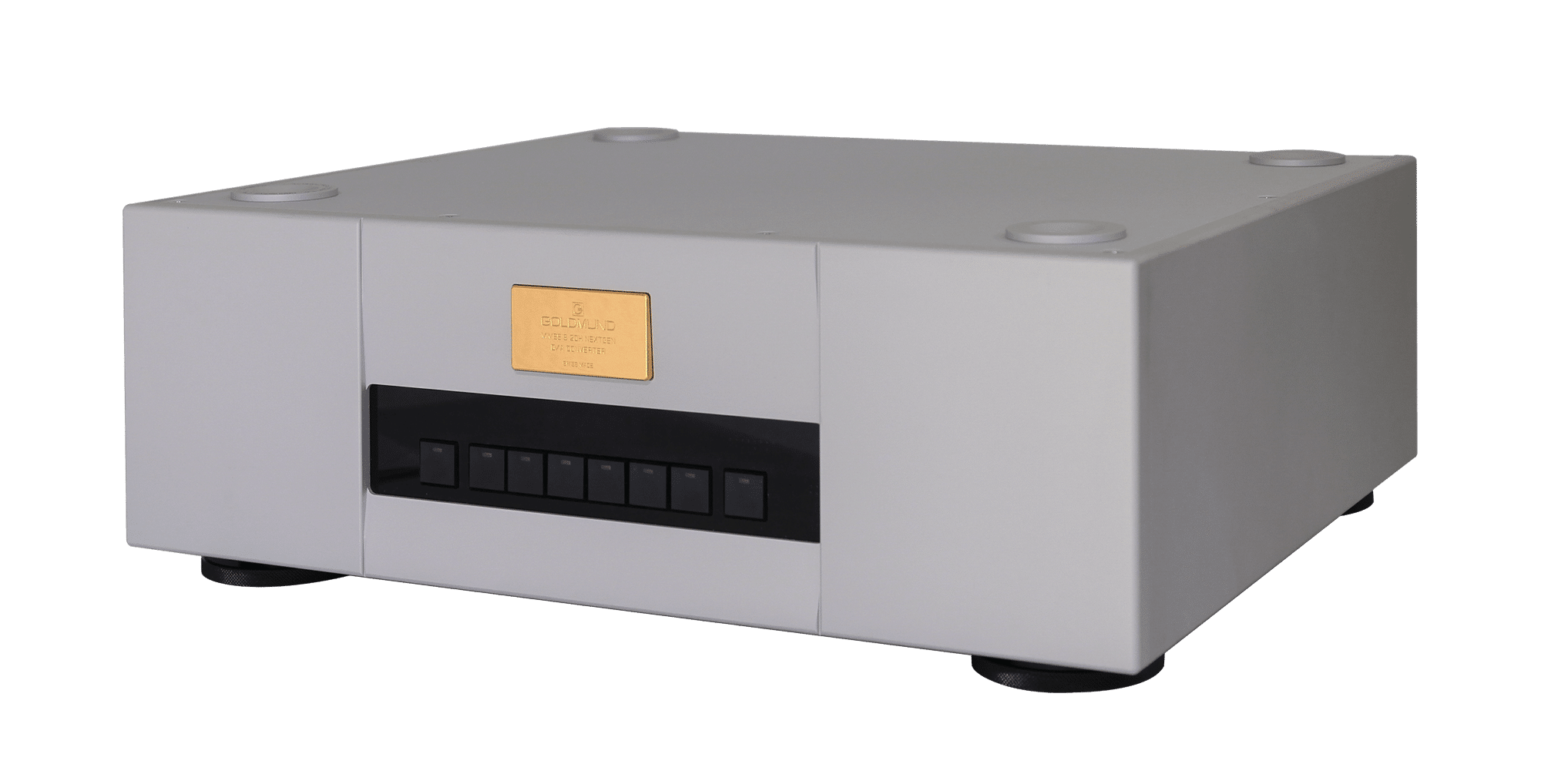 In 1: S/PDIF coaxial (RCA 75 Ohms).
In 2: Toslink Optical.
In 3: S/PDIF coaxial (RCA 75 Ohms) and AES/EBU balanced (XLR 110 Ohms).
In 4: S/PDIF coaxial (RCA 75 Ohms) and Toslink Optical.
In 5: S/PDIF coaxial (RCA 75 Ohms) and ATT Optical.
In 6: USB AUDIO (384 kHz/Bit depth up to 32 compatible DSD over PCM).
Any inputs from 1 to 5 can receive stereo audio encoded signal up to 192 kHz/Bit.
1 x RCA and 1 x XLR balanced (left).
1 x RCA and 1 x XLR balanced (right). 


2 x Goldmund ultra-linear phase proprietary circuitry enhanced Alize 7 with enhanced dynamics.
Bandwidth: 20 Hz-20 kHz -0.2 dB typical.
Typical non-linearity: below 1 dB at -100 dB.
Typical phase error between channels: < 0.5 degrees.
Output voltage: 2 Vrms unbalanced, 4 Vrms balanced.
THD < 0,001 % (0 dBFS, 80 KHz bandwidth measurement).
6 x button Input channel selection (Ch1-Ch6) with separate LED signal locking (green).
1 x Mute button with LED signal standby (orange).
1 x standby button with LED signal standby (orange).
Separate LED display (orange). 


3 Separate power transformers (25 W in use, 2 W in standby): 
– 1 x transformer that is always under voltage;
– 2 x transformers that are cut off for energy savings when the unit is on standby mode.
Nominal AC line voltage: 115V / 230V.
Input voltage range: +/- 15%.Fuse 1.6 A.
44 W x 16 H x 37 D (cm).
20 kg.
3 years, parts and labor.
The Mimesis 20H NextGen includes the latest Alize 7 D/A circuitry that was originally developed for the iconic Telos 5000 and it is the most prestigious and technologically advanced Goldmund stereo DA converter. The Alize 7 circuit is a stepped D/A with an extended dynamic range of >130 dB, and a perfect time alignment correction. The sonic effect is a much deeper silence, with greatly improved micro-dynamics and spectacular transparency, due to multiple D/A in parallel for each channel.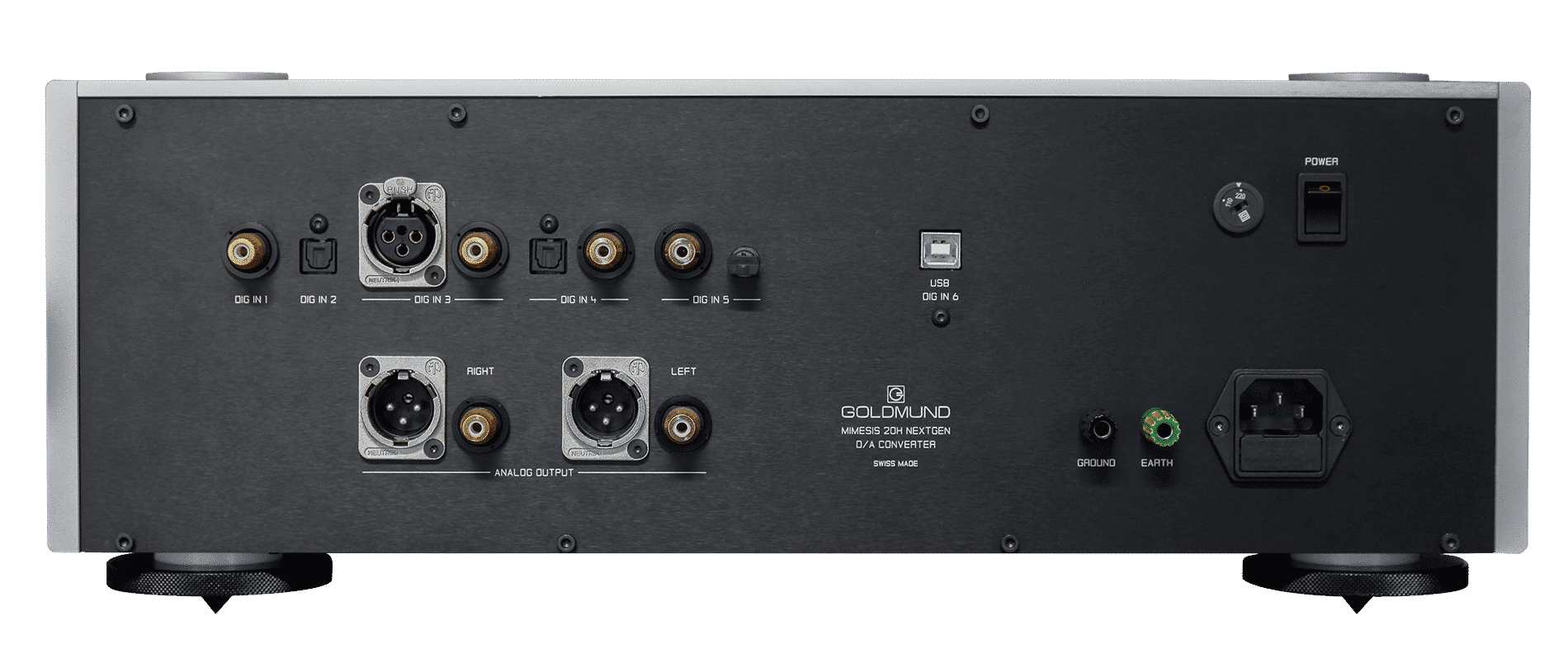 This result is also due to the integrated power supply feeding the Alize circuits. It is inspired from the newly designed power supply used in the Mimesis line and guarantees a perfectly pure power is delivered to the unit. Dedicated to ultra-high-end sound systems, the Mimesis 20H NextGen is the reference 2-channel D/A converter that all serious audiophile customers in search of the most pristine sound want in their listening room. Goldmund recommends using the Mimesis 20H Nextgen along with the latest analogue preamplifier: The Mimesis 22H NextGen. The Mimesis 20H NextGen D/A converter offers 6 inputs including USB with DSD file reading capabilities and balanced XLR circuit.