The Telos 380 mono amplifier belongs to the long lineage of power amplifiers introduced for the first time by Goldmund in 1982. Today's schematics have been patiently refined by several generations of engineers, each one making it even closer to perfection.
The original goal of the Goldmund amplifier design is to deliver much better "Speaker Control" – or "Acoustical Damping" in Goldmund terms – than any other existing designs. This means minimizing any parasite noise added by the amplifier to the signal it receives from the source and transfers to the speakers. In the design of a power amplifier, Speaker Control is improved by a sum of specific amplifier properties, some kept secret.
Each generation of Goldmund power amplifiers has been capable, progressively, of better Speaker Control, achieving in 2020 a control over 100 times better than the original 1982 design. For this reason, many unpowered speaker manufacturers are using Goldmund power amplifiers in their private demonstrations.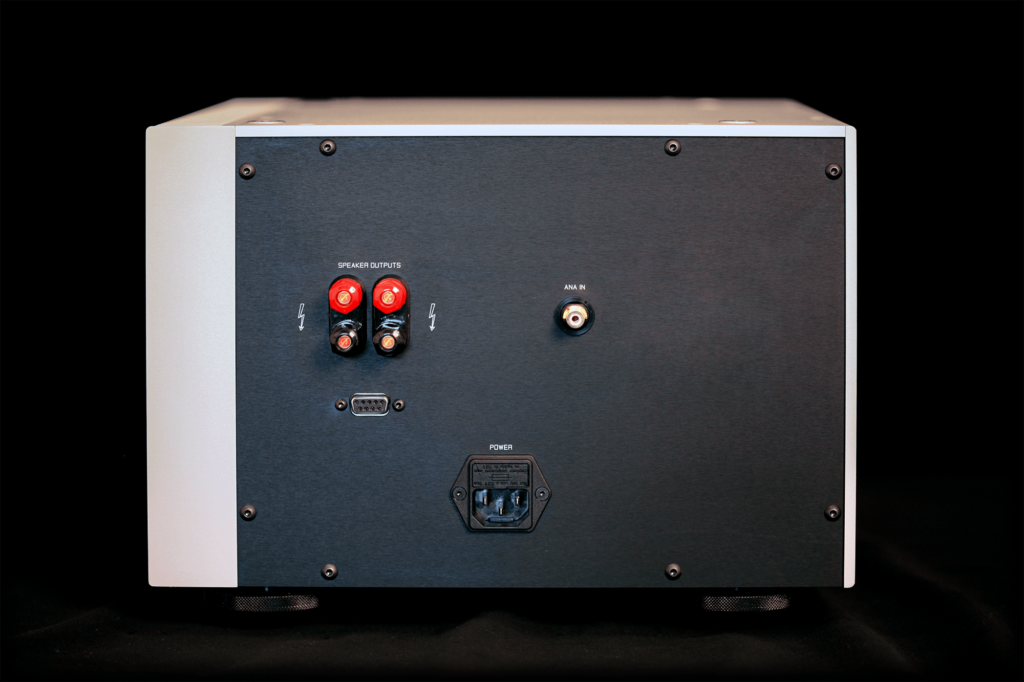 IEC 60065, 1/8 Output Power at 8 Ω: 150 W.
Power cord: universal socket 3 lugs.
Main fuse (8 A slow-blow for 115 V and 230 V).
2x pairs binding post 5-ways connectors.
Analog RCA input (unbalanced connector).
RS232 command connector.
Max level before clipping, Analog input: 1 VRMS.
Max level before clipping, 1 % THD, unloaded: 158 Vpp. 


Maximum power (IEC60065): 285 WRMS on 8 Ω / 1 % THD.
IMD (SMPTE), unloaded: < 0.05 %.
THD+N, unloaded: <0.02 % from 20 Hz to 20 kHz at 30 VRMS output.
Analog input terminated with RCA Shorting Caps, unloaded: < 20 μV from 20 Hz to 20 kHz.
22 kHz measurement bandwidth (flat), true RMS unloaded: 100 dB.
31 W x 23 H x 38.4 D x (cm).
20 kg.
3 years, parts and labor.