In Greek, Telos means purpose or goal. Telos 440 power amplifier purpose is to raise the power level of the input signal to unreasonable levels and drive any passive speaker with ease. As all Goldmund amplifiers, Telos 440 performance goes well beyond the traditional audio bandwidth thanks to its ultra-linear lateral MOSFET transistors. Digital and analog inputs are available at the rear, widening the range of sources that it can be connected to when compared with analog-ready only power amps. Sources include Goldmund acoustic processors or preamps. Our distributors can advise you on the best sound system setup based on the specifications of all the components in your audio system.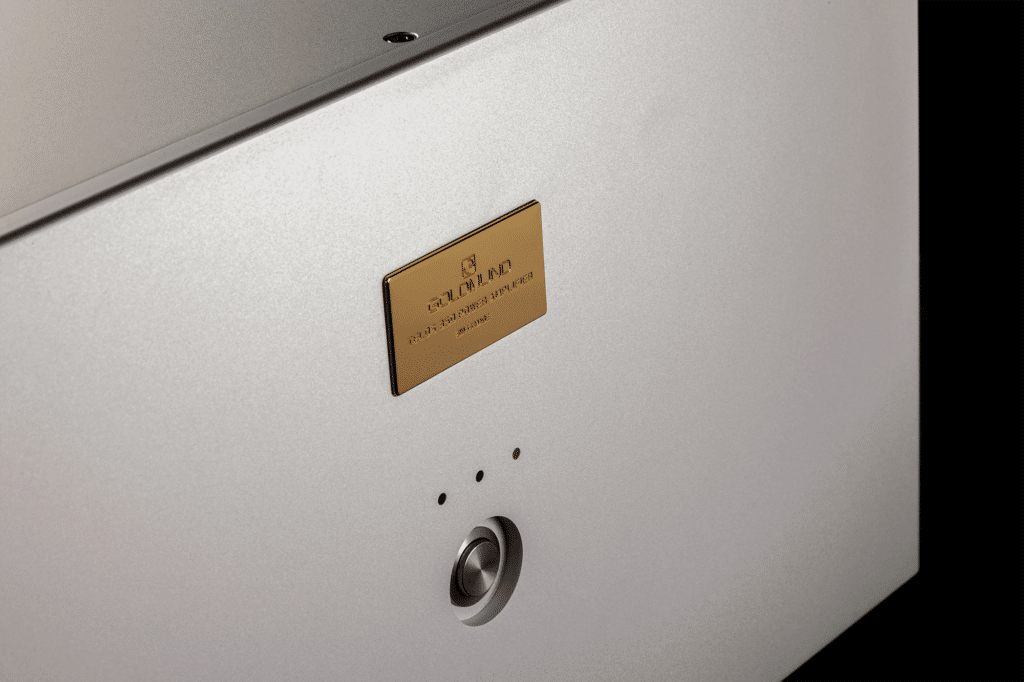 Maximum power (IEC60065): 285 Wrms on 8 Ω / 1 % THD.
Analog input terminated with RCA Shorting Caps, unloaded: < 20 μV from 20 Hz to 20 kHz.
IMD (SMPTE), unloaded: < 0.05 %.
THD+N, unloaded: < 0.05 % from 20 Hz to 20 kHz at 30 Vrms output.
Power cord: universal socket 3 lugs.
Main fuse (8 A slow-blow for 115 V and 230 V).
1x pairs binding post (red & black).
Analog RCA input (unbalanced connector).
Digital S/PDIF input and output RCA connectors.
Switch between analog or digital input.
Switch right or left channel selection from the S/PDIF input.
RS232 command connector for programming.
Max level before clipping:
Analog input: 1 Vrms.
Digital input: -6.6 dBFS.
Max level before clipping:
1 % THD, unloaded: 158 Vpp.
IEC 60065, 1/8 Output Power at 8 Ω: 150 W.
Nominal line voltage: 115 V or 230 V.
Input voltage range: +/- 15 %.
22 kHz measurement bandwidth (flat), true RMS unloaded: 100 dB.
44 W x 26.8 H x 40.5 D x (cm).
24 kg.