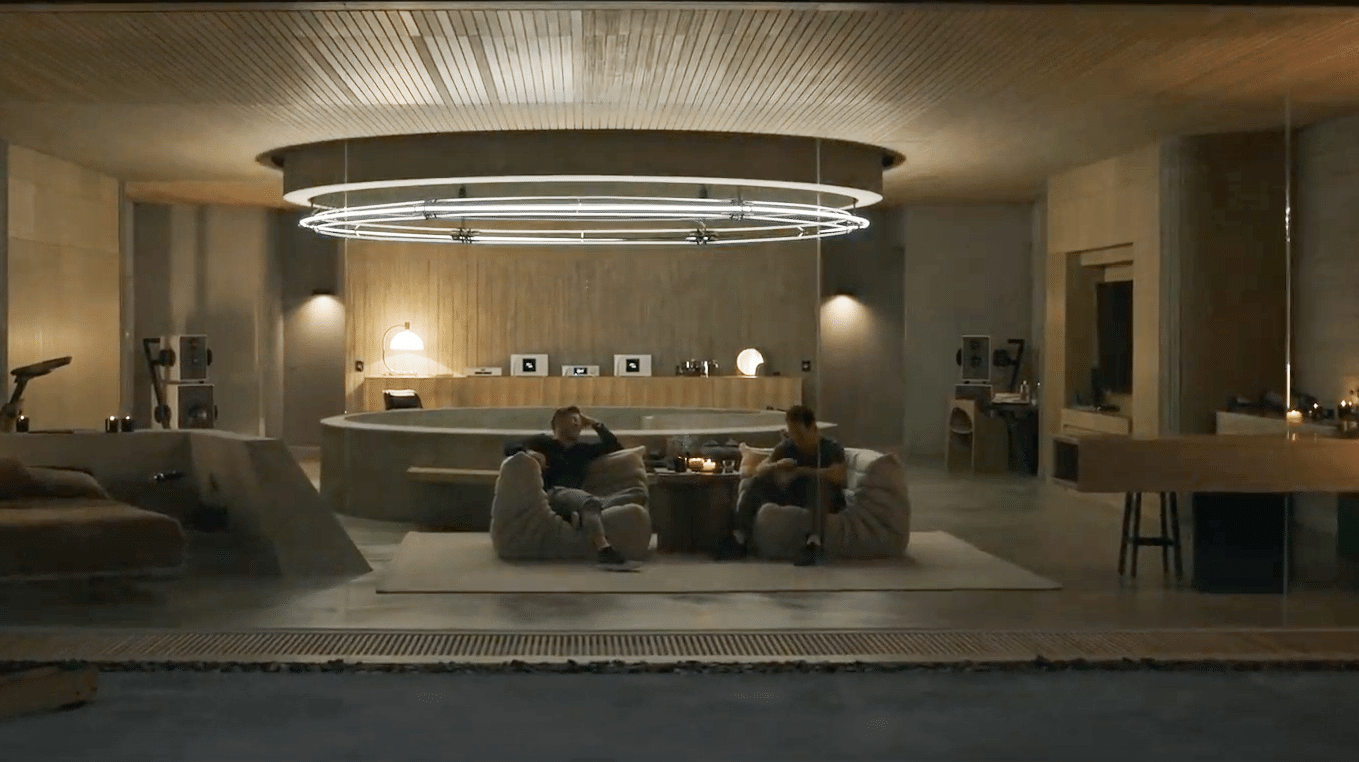 Scene from the Spiderhead directed by Joseph Kosinski
Goldmund, the leading Swiss high-end equipment brand, makes its first appearance to the big screen, starring in the latest Netflix movie directed by Joseph Kosinski, "Spiderhead". 
Netflix's "Spiderhead" is a science fiction adaptation based on George Saunder's 2010 short story "Escape from Spiderhead". The story takes place in a not-too-distant future and features two convicts who volunteer as medical subjects in hopes of reducing their sentences. They become test patients for new emotion-altering pharmaceuticals and confront the demons from their pasts.
Directed by Joseph Kosinski, the movie assembles a high-profile cast including Chris Hemsworth, Jurnee Smollett, Miles Teller… and Goldmund!
 To help recreate the film's sci-fi atmosphere, "Spiderhead" set designer Nancy Mcllvaney turned to Goldmund for its high-quality sound systems and its cubist, future-oriented look. 
The Australian actor, Chris Hemsworth, plays a wealthy pharmacist and sosciopath named Steve Abnesti who conducts various scientific experiments on prisoners who volunteer for the project in exchange for a reduced sentence. The tests involve giving each prisoner several new drugs through their MobiPak, a device that pumps the substances into their body. Each drug affects a different aspect of the patient and intensifies their human emotions.
Like a tarantula of steel and concrete, the eight-legged structure is perched on a lush coastline, overlooking waves speckled with golden sunlight. In this adventure, we follow the prisoner Jeff (Miles Teller), who gradually discovers the macabre intentions of the charming and friendly Dr Abnesti. Behind the tropical paradise, surrounded by sophisticated and stylish gadgets, Jeff discovers himself plunged into hell. 
For this movie, the Swiss Hi-Fi brand lend them a pairof Samadhi wireless loudspeakers and a Logos Highsub subwoofer. The speaker system furnishes the room of the main character embodied by Chris Hemsworth. The Swiss audio made its first appearance in a movie, and it will certainly not be the last time.
The question then arises: where will Goldmund be next? 
For the time being, seat back and relax, the sound experiment is about to start!