Extreme Performance and Complete Customization
LOGOS ROOM
Extreme Performance and Complete Customization
The Logos Room Home Cinema is dedicated to an audience in search of extreme performance and complete customization for medium size areas of entertainment (20 to 50 square meters).
All Logos Room systems are calculated by our Acoustic Laboratory in Geneva with the Proteus room modeling software. The Proteus technology is a mathematical model that is used to create the optimal system configuration for the Room. All configurations inserted in its DSP's are also the results of Proteus algorithms. The system thus offers a complete correction of amplitude, phase, and time, guarantying the cleanest and most realistic sound environment, with an unrivalled linearity, even at very high sonic levels.
Goldmund's revolutionary approach allows acoustic corrections to be made by the system. The Proteus technology computes custom solutions for each project so the Logos Room Home Theater can adapt to any décor and room configuration and back the designer's creativity. It is nonetheless important to point-out that to achieve a state-of-the-art sound quality the Logos Room architecture should respect the acoustic laws of a movie theater.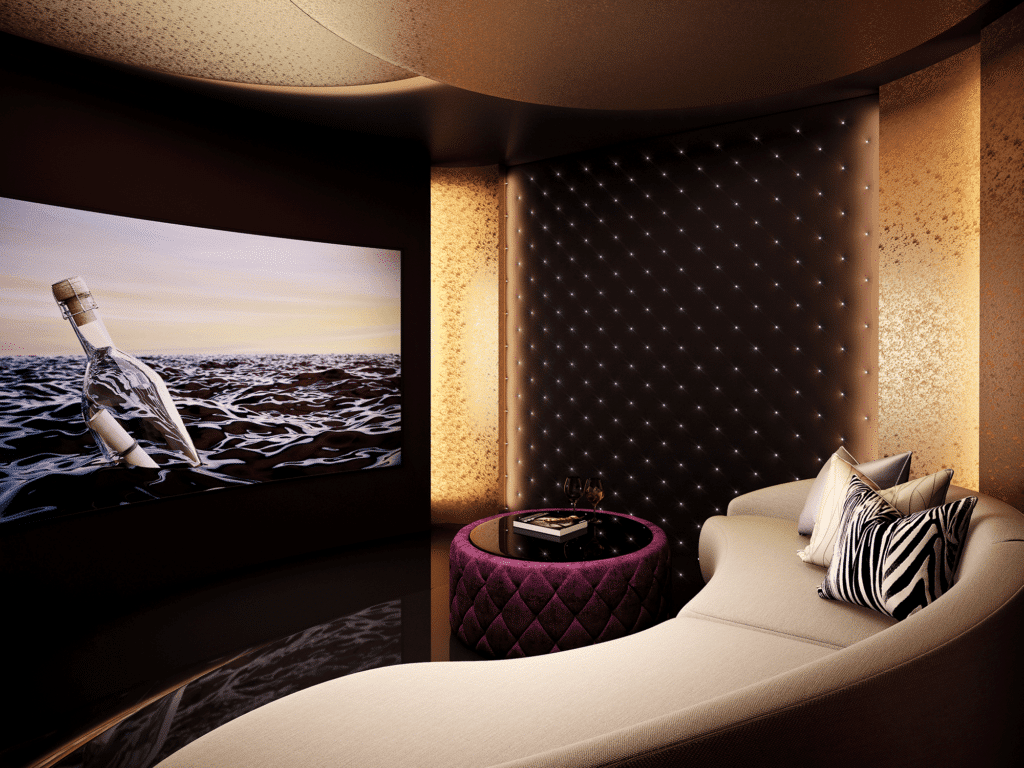 The virtual speaker concept is another breakthrough in Home Theater technology. Proteus is able to create a virtual sound source that comes from anywhere in the room, even from areas where speakers are not physically located.
Logos Room Home Theater products comprise: LogosWall MK2 speakers, Logos SubWall MK2 subwoofers, Logos 3A infra subwoofers (to boost infrasound impact) and a processor (from 16 to 32 discreet channels). The Logos Room speakers come with integrated amplifiers, saving the expense of additional mechanical parts. This system turns music and video into a unique level of sensations for a complete immersive experience. It is also possible to add a few Logos modules to existing stereo speakers and recreate a perfectly lifelike concert hall sound atmosphere.